America! America! (Face the Future with Faith)
Published on

Sep 7, 2013
America Fresh Courage Take, Our God Will Never Us Forsake!
A beautiful piano solo mixed with images of patriotism. Love it or leave it! God WILL support an America with his people who still believe. Doom and gloom? I say no way. Our futures are as bright as our faith. Their only goal is to dim our light.
(Great Talk Of Faith Included)
Face the Future with Faith
Russell M. Nelson
Of the Quorum of the Twelve Apostles
---
Truth, covenants, and ordinances enable us

to OVERCOME fear and face the future with FAITH

!
Play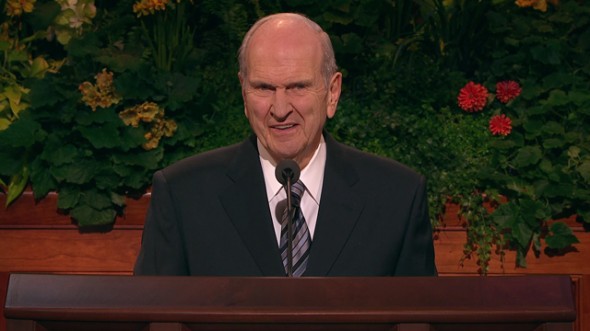 PD50028768_000_2050
My beloved brethren and sisters, thank you for your sustaining influence, not only by your uplifted hand but also by your uplifting service at home, in the Church, and in your communities. We love to be with you and see you among your families and friends. Wherever you live, we observe your efforts to make this world a better place. We sustain you! We love you! As you pray for us, so we pray for you!
We envision your families gathered around the television or online to watch the proceedings of general conference at home. An alert mother and father sent me a copy of a picture they took at conference time. They observed the reaction of their then-18-month-old son, who recognized the features and voice of the speaker. The child started to throw kisses toward the TV. He wanted to come closer. So his thoughtful older sister quickly hoisted her little brother on her shoulders and brought him closer. Here is that photograph.
Yes, the image on the TV is mine, and those children are our grandchildren. In a few years this boy will be an elder endowed in the temple and ready for his mission. Later he will be sealed to an eternal companion of his choice. Can you see him one day as a husband and father, with children of his own? And one day he will say farewell to his grandfathers, with a sure knowledge that death is part of life.
It is true. We live to die, and we die to live again. From an eternal perspective, the only death that is truly premature is the death of one who is not prepared to meet God.
"Your prayers have entered into the ears of the Lord … and are recorded with this seal and testament—the Lord hath sworn and decreed that they shall be granted.
Our beloved President Thomas S. Monson has given us his prophetic witness. He said: "I testify to you that our promised blessings are beyond measure. Though the storm clouds may gather, though the rains may pour down upon us, our knowledge of the gospel and our love of our Heavenly Father and of our Savior will comfort and sustain us and bring joy to our hearts as we walk uprightly and keep the commandments."
To President Monson's powerful declaration I add my own. I testify that God is our Father. Jesus is the Christ. His Church has been restored to the earth. His truth, covenants, and ordinances enable us to overcome fear and face the future with faith! I so testify in the sacred name of Jesus Christ, amen.