Strategic Relocation - North American Guide to Safe Places (Full Length ...
New Book: Julie Rowe's "The Time is Now" (Book #2 of Greater Tomorrow)
---
Have you already read Julie Rowe's "A Greater Tomorrow?"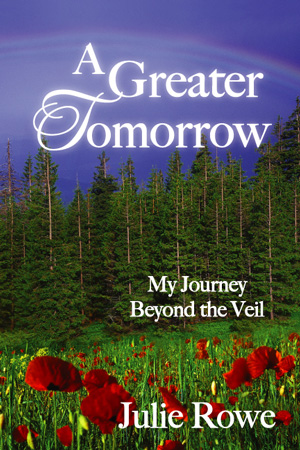 If you read A Greater Tomorrow and were left feeling that there were still far too many questions that remained unanswered, you will be delighted to hear about
Book #2 in this series
..
The Time is Now.
LDS-AVOW Discussion Thread & Sneak Peak.
https://www.ldsavow.com/forum/showthread.php?t=209131\
http://www.abysmal.com/Merchant2/mer...tegory_Code=JR
In 2004, Julie Rowe was a happy wife and mother. Then her health took a turn for the worse. While in a weakened state, her spirit left her body and entered the Spirit World. An ancestor named John greeted her and showed her many wonderful places there. He also allowed her to read from the Book of Life, which showed her a panorama of the earth's past, present, and future.
Julie saw the lives of many historical figures, such as Adam and Eve, Enoch, Noah, and Moses. She witnessed the Savior's mortal life, including his crucifixion and resurrection. She also saw the restoration of the Church of Jesus Christ through the prophet Joseph Smith, and the key events that have led to the Church's growth.
Then Julie was shown upcoming world events that will be both tragic and glorious. She saw earthquakes, tsunamis, famines, plagues, and wars, but she also witnessed how the Lord is watching over His people and is preparing places of refuge to protect them from the coming calamities. Julie was filled with joy as she saw the Saints establish the New Jerusalem and other Cities of Light in preparation for the Savior's Second Coming.
Prior to her return, she was told that at a future time she would be expected to tell others about her experience. That time has come.
As you read Julie's experience, your life will be changed as you feel the Lord's love and concern for each of us.
======
Julie Rowe's first book,
A Greater Tomorrow
, told of her near-death experience in 2004. During her visit to the Spirit World, she was shown a panorama of the earth's history and future.
In this new volume,Julie focuses on giving additional details about the future events she was shown, and how we can best prepare for them.
Julie shares what she saw concerning:
The hastening of the Lord's work
The power of family history and temple work
Spiritual and temporal preparations for the future
The gathering of the righteous to places of safety
Upcoming natural disasters across the earth
Plagues and sicknesses that will strike
The implementation of martial law
Foreign troops arriving in the United States
The Elders of Israel defending their liberty
Life in New Jerusalem
The Second Coming of Jesus Christ
Throughout the book, Julie stresses that we
must not delay our preparations
.
These events are
not far off
, and
The Time is Now
will help you be ready for what awaits us.
Chapter One:
The Lord's Prophets Have Spoken
Chapter Two:
The Hastening of the Work
Chapter Three:
The Power of Family History and Temple Work
Chapter Four:
Don't Delay Getting Your Life in Order
Chapter Five:
Spiritual Preparations Before the Gathering
Chapter Six:
Temporal Preparations Before the Gathering
Chapter Seven:
Church Leaders Will Prepare the Saints
Chapter Eight:
The Prophet's Invitation to Gather
Chapter Nine:
Daily Life in the Three Types of Camps
Chapter Ten:
Natural Disasters Across the Earth
Chapter Eleven:
Plagues and Sicknesses
Chapter Twelve:
The US Government Implements Martial Law
Chapter Thirteen:
Foreign Troops Arrive on US Soil
Chapter Fourteen:
The Saints Gather into Larger Groups
Chapter Fifteen:
The Elders of Israel Defend their Liberty
Chapter Sixteen:
Life in New Jerusalem
Chapter Seventeen:
The Second Coming of the Savior



Christopher's Comment.
I got my advance copy a few days ago and started reading it right away. There is no doubt in my mind that this will be THE most talked about book on LDS-AVOW this Fall. Everyone that read her first book will want this follow-on edition that answers many of the questions her readers have been putting to her for months now.
http://www.abysmal.com/Merchant2/mer...tegory_Code=JR