The August Event Continues, The Creation Of Security Zone Is Now Complet...
Published on Aug 26, 2016
Check Out The X22 Report Spotlight YouTube Channel –
https://www.youtube.com/channel/UC1rn...
Get economic collapse news throughout the day visit
http://x22report.com
Report date: 08.26.2016
Obamacare is a complete failure but Obama will not admit it. The first amendment is being gutted. Russia wants a complete ceasefire before the situation gets out of hand. George Soros planned to have a regime change in Russia. Kerry presents peace deal in Yemen, surrender. Libyan UN backed government wants more bombings from the US.Turkey establishes a security zone in Northern Syria. US is now going after Assad with chemical weapons propaganda. Russia is trying to counter the claims. The war has begun.
All source links to the report can be found on the x22report.com site.
Most of artwork that are included with these videos have been created by X22 Report and they are used as a representation of the subject matter. The representative artwork included with these videos shall not be construed as the actual events that are taking place.
Intro Music: YouTube Free Music: Warrior Strife by Jingle Punks
Fair Use Notice: This video contains some copyrighted material whose use has not been authorized by the copyright owners. We believe that this not-for-profit, educational, and/or criticism or commentary use on the Web constitutes a fair use of the copyrighted material (as provided for in section 107 of the US Copyright Law. If you wish to use this copyrighted material for purposes that go beyond fair use, you must obtain permission from the copyright owner. Fair Use notwithstanding we will immediately comply with any copyright owner who wants their material removed or modified, wants us to link to their web site, or wants us to add their photo.
The X22 Report is "one man's opinion". Anything that is said on the report is either opinion, criticism, information or commentary, If making any type of investment or legal decision it would be wise to contact or consult a professional before making that decision.
-----------------------------------------------------------------------------------------------------------------------------------------------------
How ObamaCare is Splitting in Two
ObamaCare is one of the biggest American tragedies of the past decade, in my opinion. Every aspect of it is geared toward limiting the opportunities of the average citizen, not just regarding insurance, but in all aspects of our lives. When the legislation was first passed, I was a department supervisor for Spanish Fork City. The city administration held several meetings with the supervisors trying to explain to us how it would affect our staff. As I listened to these administrators speak,
the main emotion I felt from them was frustration and uncertainty.
They felt the federal government had reached too far down the totem pole and not allowing them to govern their own city.
For example, the previous year they had agreed I could add a full-time person to my staff, but due to the vague guidelines they had received from the federal government regarding ObamaCare, they chose to not add another person at that time. The same scenario was repeated in other city departments, as well as other communities and private businesses across the country. Thousands of anticipated jobs never saw the light of day.
This interesting article by Peter Sullivan on TheHill.com shares another aspect of how ObamaCare continues to affect various parts of the country in differing ways. Prices continue to climb, forcing insurance providers to bail out of the marketplace. Some rural areas might not even have a provider available next year.
President Obama certainly knew where this legislation would lead, even as he was telling us lie after lie about how it would help the country.
Meanwhile, the gullible citizens among us are being led into complete dependence on the government.
Increasingly, there are two ObamaCares.There's the one in coastal and northern areas, where the marketplaces include multiple insurers and plans. And there's the one in southern and rural areas, where there is often little competition, a situation that can lead to higher premiums."There's really two kind of stories that are playing out," said Cynthia Cox, who studies insurer competition at the Kaiser Family Foundation.The trend is likely to be accelerated by the departure of Aetna and UnitedHealthcare from ObamaCare marketplaces in 2017. The loss of those insurers won't affect all parts of the country equally, experts say.
"The combined effect of these exits is mostly concentrated in southern states and particularly rural counties within those states,
" Cox said. According to an analysis from the consulting firm Avalere, as of now, there will be just one insurer offering ObamaCare coverage next year in seven states: Alabama, Oklahoma, South Carolina, Wyoming, Alaska, North Carolina and Kansas. It is possible that more insurers could enter these markets before next year.In one county in Arizona, there might not be an ObamaCare plan available at all.Aetna had been the only insurer offering a plan in Pinal County. Unless federal and state officials can find another insurer to fill the void in 2017, the county's 400,000 residents will not be able to buy coverage on an ObamaCare exchange.The dearth of options in rural, sparsely populated areas is a far cry from what Democrats promised when selling the Affordable Care Act.
Obama talked at the time about how the law would create a "one-stop shop" for insurance, comparing it to websites where people can look for airline tickets.
"Just visit healthcare.gov, and there you can compare insurance plans, side by side, the same way you'd shop for a plane ticket on Kayak or a TV on Amazon," Obama said in 2013. "You enter some basic information, you'll be presented with a list of quality, affordable plans that are available in your area, with clear descriptions of what each plan covers, and what it will cost. You'll find more choices, more competition, and in many cases, lower prices."
In states like Oklahoma, the reality is different, with just one insurer to choose from in the online marketplace.
"We certainly see this as an issue," said Mike Rhoads, Oklahoma's deputy insurance commissioner. "With only a single carrier out there, there is no competition." "I think competition drives price sensitivity by these carriers," Rhoads said. Adding to the geographic disparities under ObamaCare, many of the same states where insurance competition is lacking declined the health law's expansion of Medicaid. Because of that, many lower-income people have no insurance option at all.
Read the full article here.
http://thehill.com/policy/healthcare...litting-in-two
Evidence Points to Another Snowden at the NSA
[IMG]http://media.cinewsnow.com/images/470*264/snowden5.jpg[/IMG]
Depending on the day, the mainstream media bounces back and forth on whether Russia is behind the recent hacking of the Democratic National Committee's emails. However, this insightful commentary by James Bamford of Reuters argues that the real story is there is likely another Edward Snowden inside the National Security Agency. This superspy is infiltrating the very organization he works for. I fully believe it is possible. (After all, I have one of the main characters in my "Times of Turmoil" series doing much the same thing inside the NSA.) According to the article, there is little evidence that Russia is behind all of the WikiLeaks document releases, but that isn't to say Russia wasn't able to tap into Hillary's personal email server.
It sounds like almost any country or organization with hacking skills was able to do that!
In the summer of 1972, state-of-the-art campaign spying consisted of amateur burglars, armed with duct tape and microphones, penetrating the headquarters of the

Democratic National Committee

. Today, amateur burglars have been replaced by cyberspies, who penetrated the DNC armed with computers and sophisticated hacking tools. Where the Watergate burglars came away empty-handed and in handcuffs, the modern- day cyber thieves walked away with tens of thousands of sensitive political documents and are still unidentified.Now, in the latest twist, hacking tools themselves, likely stolen from the National Security Agency, are on the digital auction block. Once again, the usual suspects start with

Russia

– though there seems little evidence backing up the accusation. In addition, if

Russia

had stolen the hacking tools, it would be senseless to publicize the theft, let alone put them up for sale. It would be like a safecracker stealing the combination to a bank vault and putting it on Facebook. Once revealed, companies and governments would patch their firewalls, just as the bank would change its combination.
A more logical explanation could also be insider theft.
If that's the case, it's one more reason to question the usefulness of an agency that secretly collects private information on millions of Americans but can't keep its most valuable data from being stolen, or as it appears in this case, being used against us.In what appeared more like a Saturday Night Live skit than an act of cybercrime, a group calling itself the Shadow Brokers put up for bid on the Internet what it called a "full state-sponsored toolset" of "cyberweapons." "!!! Attention government sponsors of cyberwarfare and those who profit from it !!!! How much would you pay for enemies cyberweapons?" said the announcement. The group said it was releasing some NSA files for "free" and promised "better" ones to the highest bidder. However, those with losing bids "Lose Lose," it said, because they would not receive their money back. And should the total sum of the bids, in bitcoins, reach the equivalent of half a billion dollars, the group would make the whole lot public. While the "auction" seemed tongue in cheek, more like hacktivists than Russian high command, the sample documents were almost certainly real. The draft of a top-secret NSA manual for implanting offensive malware, released by Edward Snowden, contains code for a program codenamed SECONDDATE. That same 16-character string of numbers and characters is in the code released by the Shadow Brokers. The

details from the manual

were first released by The Intercept last Friday.
The authenticity of the NSA hacking tools were also confirmed by several ex-NSA officials
who spoke to the media, including former members of the agency's Tailored Access Operations (TAO) unit, the home of hacking specialists. "Without a doubt, they're

the keys to the kingdom

," one former TAO employee told the Washington Post. "The stuff you're talking about would undermine the security of a lot of major government and corporate networks both here and abroad." Another added, "From what I saw, there was no doubt in my mind that it was legitimate."
Read the entire article here.
http://www.reuters.com/article/us-in...-idUSKCN10X01P
__________________
Communications Ministry Mulls Total Control Over Russian Sector of the Web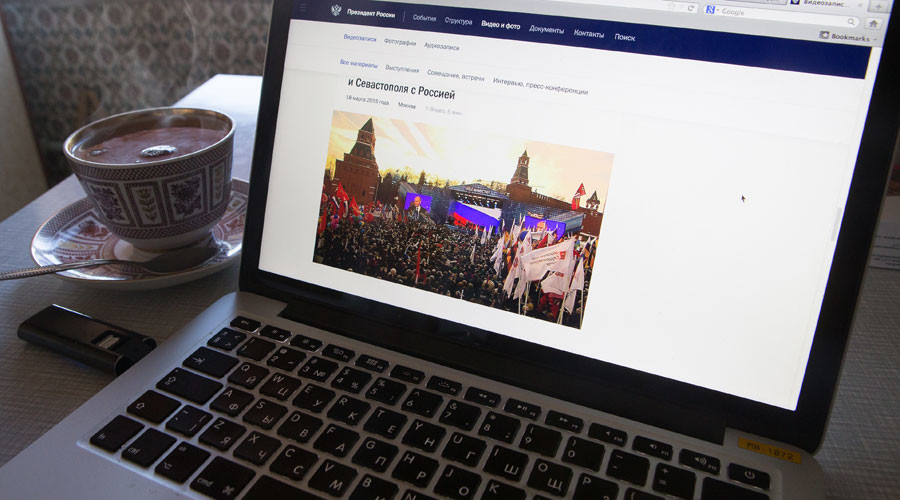 This past month we've learned of Vladimir Putin's battle within his leadership ranks as he seeks to maintain control. In a similar move, the country's Communications Ministry is seeking to tighten its control over internet regulations. This article on RT.com shows how these strict measures will essentially block any foreign ownership of web operations within Russia.
Naturally,
the Russians say these new regulations are required to combat questionable cyber behavior by the West.
The Russians claim they need to take control of the internet to protect their citizens from "external influences" such as Western culture. However, I believe it is partly a case of a talented "cyber thief" making sure his enemy can't pull off the same type of hacking job that he is currently doing to them. Watch out!
The U.S.S.R. is emerging once again.
The Communications Ministry has prepared a bill that formally defines critical digital infrastructure and allows only Russian companies to own the hardware and databases that control the .ru and Cyrillic domains of the internet, mass media report. Russian business newspaper Vedomosti reported on Friday that the Communications Ministry was proposing to change the Russian Law on Communications, with a separate article detailing the measures aimed at regulating the internet in the .ru domain and in the Cyrillic domain.
Such measures would include defining critical internet structures consisting of the national domain zone as well as the infrastructure required for its operation
, and the state system that would back up the information about internet exchange points, IP addresses and autonomous networks.The law would also order that internet exchange points in the Russian sector of the web could only be owned by Russian companies. However, the current edition of the bill allows for foreign ownership of up to 20 percent of these points in future – a system similar to the one used in the current Russian Law on Mass Media. The rules are even stricter for national domain registers – the owners of such companies can be only Russian entities founded by the Communications Ministry and financed from a special "Universal Service Reserve" fund which, in turn, will be formed with a 1.2 percent income excise levied on all telecom corporations operating in the country.Reports that the coordination of the Russian national domain in the internet could be put under the control of state structures had earlier been circulated by business daily Kommersant, but Vedomosti has now provided more details on the bill.In March this year Russian Communications Minister Nikolay Nikiforov said in an interview with RT that the US government and certain US-registered corporations had a disproportionately strong influence on the internet, and the minister allowed for measures to establish Russia's independence in this sphere.He pointed out that in 2014 the US authorities promised to hand over control of one of the most critical parts of internet infrastructure – the Internet Corporation for Assigned Names and Numbers (ICANN) – from the US Department of Communications to a multi-stakeholder collective, but this move was later postponed. "With this prolonged monopolization, many countries in the world are working on technical solutions that would protect national segments of the internet from a possible external destructive action. They are creating backup infrastructures, which respond to a disruption – intentional or accidental – and prevent national segments from being blocked," Nikiforov said.The minister also added that the Russian government and private companies were heavily investing in the internet, and that the desire to protect these investments was only natural.In 2014 the Russian president's press secretary, Dmitry Peskov, commented on media reports claiming that the authorities allegedly had plans to
"
disconnect Russia from the global internet
."
Peskov dismissed the reports as false, but noted that Russian special services and IT corporations were working to improve cyber security due to the unpredictable behavior of the West.
"
We all know who the chief administrator of the global internet is. And due to its volatility, we have to think about how to ensure our national security
,"
the official stated. It's not about disconnecting Russia from the worldwide web, but about
"protecting it from possible external influence."
Source Article
https://www.rt.com/politics/356470-c...total-control/
Germans Told to 'Stockpile Food and Water' in Civil Defense Plan
---
Germans Told to 'Stockpile Food and Water' in Civil Defense Plan
This article by Justin Huggler of the UK Telegraph explains how Germany's leaders are asking citizens to prepare for unseen troubles by stocking up on supplies.
I appreciated this commentary from a related article that reads: If you've been following collapses around the world for the past few years, you know that right before all heck breaks loose, the government issues a half-hearted warning along the lines of, "You're on your own now." But by then, it's already too late.

People who try to prepare after the government tells them to will be dealing with limited supplies as everyone else tries to get prepped too. It happened in

Greece

and

Venezuela

both, and it's highly possible that we're about to watch history repeat itself. Will Germany become the next falling domino in the collapse of the Western world?
The message is if you stock up on

emergency food

,

water

, and

other vital supplies

before everyone else, you'll do so at better prices with better options. I suppose that is too logical for many of our friends and neighbors. It would be curious to see their responses, though, if President Obama told everyone to get food storage. Would they do it?
Are they more likely to listen to a living U.S. president than a living prophet of God?
I suppose we'll never know, because the last thing President Obama wants is a prepared citizenry.
Germany plans to tell its citizens to stockpile food and water in case of an attack or catastrophe for the first time since the end of the Cold War, according to reports. The proposals, which Angela Merkel's government is set to discuss at a cabinet meeting on Wednesday, have not yet been made public.But according to details leaked to the German press they include advice to citizens to stockpile enough food for ten days and clean drinking water for five days."The population should be urged by appropriate means to keep two litres of drinking water per person per day," Frankfurter Allgemeine Sontagszeitung quoted a government paper as saying.
P
eople will also be urged to keep supplies of medicines, warm blankets, coal, wood, candles, torches, batteries, matches, and reserves of cash in their homes.
The authorities are to boost stocks of smallpox vaccine and antibiotics in case of biological attack, and set up reserves of petrol and oil at 140 locations around the country to ensure a supply for 90 days.Other provisions include setting up decontamination sites outside hospitals in case of nuclear, biological or chemical attack.
Germany is currently on high alert after two Islamist attacks and a shooting rampage by a mentally unstable teenager last month.
Berlin announced measures earlier this month to spend considerably more on its police and security forces and to create a special unit to counter cyber crime and terrorism.
The government rejected accusations that the new measures amount to "scaremongering" and said they were not a reaction to the current terror threat.
Johannes Dimroth, a spokesman for the interior ministry, said the proposals were a long-planned update to a government paper last revised in 1995.But opposition MPs condemned the plans. A call to stockpile food "could completely unsettle people," Dietmar Bartsch of the Left Party said.Details of the new proposals emerged in a 69-page government paper leaked to the press.
"An attack on Germany which requires a conventional defense response is unlikely," Frankfurter Allgemeine Sontagszeitung quoted the paper as saying."Nevertheless the country should be prepared in case of a life-threatening development which cannot be ruled out."The new proposals hark back to the detailed West German civil defense plans of the Cold War, when the country was thought likely to be on the frontline of any conflict between the Soviet Union and the West.Generations of West Germans grew up to the sound of sirens being tested that would warn of a Soviet attack.In the aftermath of the fall of the Berlin Wall in 1989 and the reunification of Germany in 1990, many civil defense measures were allowed to lapse.A review was first ordered after the 9/11 attacks in 2001 and severe flooding in Germany the following year.

Source Article
http://www.telegraph.co.uk/news/2016...ood-and-water/
Tech Wreck - 100+K Jobs Gone and More Cuts Coming
I have many friends who have made nice salaries in the technology realm, but over the past two years it seems almost monthly that one of them has been laid off or was asked to take a less-appealing job. Meanwhile, other friends who have stayed with their companies are now doing the job of two or more people as their firms downsize. This article by Suzanne O'Halloran on FoxBusiness.com gives the details of how more than 100,000 jobs have been slashed in the industry just in the past year, and that the cuts aren't over yet. The article points out that while the government claims that jobs continue to be added to the work force,

these new jobs aren't paying the kind of wages that would allow a person to adequately support a family.

One analyst says this is another sign we are heading toward a deep recession—or worse.Technology, which makes our lives easier, is also putting more Americans out of work at a fast clip.At the same time it announced a fiscal fourth-quarter earnings beat on Wednesday, Cisco, the world's largest networking giant, said it was cutting 5,500 jobs or 7% of its global workforce. Mark Haranas, of tech news website CRN, which earlier in the day reported Cisco would eliminate potentially as many as 14,000 jobs, told FOXBusiness.com the tech industry is cutting the dead weight."The jobs cuts are necessary to shed some staff in order to bring on new employees with the skillset needed in today's market. The networking skills needed in 2016 is drastically different from the skills that were needed just five years ago in 2011," he said.Microsoft, Hewlett-Packard Enterprises and Intel have already slashed more than 100,000 jobs over the past 12 to 14 months, according to data from Challenger, Gray & Christmas, and that number is rising. "There is a certain worry with these bellwethers," John Challenger of Challenger, Gray & Christmas told FOXBusiness.com. "[The job cuts] are a recessionary sign, the economy may be moving toward that side of the [economic] cycle," he added.The cuts at Cisco follow the company's shift to software from its hardware networking bread and butter as cited in the CRN report. Cisco declined FOXBusiness.com's request for comment citing the company's quiet period ahead of earnings released after the closing bell.
Old school tech-companies are being forced to reinvent themselves as the industry moves toward newer technology such as the cloud. Many CEOs are being forced to recalibrate businesses by carving up a company that was once a behemoth into two separate entities.Earlier this year Hewlett-Packard, once run by former GOP candidate Carly Fiorina, completed the spin-off of Hewlett-Packard Enterprises under the direction of CEO Meg Whitman. The separation aims to capitalize on services, an industry that brings in more than $20 billion in annual sales. It also means less headcount.What's even more troubling is the U.S. is nearing full employment, yet it is not being fueled by quality jobs and innovative sectors. Last month, private sector employers added 288,000 jobs however a small fraction of those, 8,000 or so, were computer related.Not a good sign for future economic growth.

Original Article
http://www.foxbusiness.com/markets/2...ts-coming.html
Sunni Extremists Infiltrating U.S. From Southern Border
Donald Trump has many detractors, but his goal to build a wall along the U.S. southern border with Mexico is a worthwhile cause. The Democrats are firmly against building a wall, but how can anyone object to its construction when articles such as this one keep appearing? Bill Gertz of the National Free Beacon explains that
smuggling networks in Latin America are now teaming up with groups from the Middle East to funnel Sunni extremists and other possible terrorists across the Mexican border
. The endless delay on building a wall by the Obama Administration is providing an open door for the enemies of democracy and freedom to settle here and plan out deadly attacks. Our leaders have failed us in this regard, and
if Hillary Clinton is elected, is it unreasonable to think it might soon be safer to live on the Mexican side of the border than in the southwest United States?
Sunni extremists are infiltrating the United States with the help of alien smugglers in South America and are crossing U.S. borders with ease, according to a U.S. South Command intelligence report.The Command's J-2 intelligence directorate reported recently in internal channels that "special interest aliens" are working with a known alien smuggling network in Latin America to reach the United States. The smuggling network was not identified.Army Col. Lisa A. Garcia, a Southcom spokeswoman, did not address the intelligence report directly but said Sunni terrorist infiltration is a security concern."Networks that specialize in smuggling individuals from regions of terrorist concern, mainly from the Afghanistan-Pakistan region, the Middle East, and East Africa, are indeed a concern for Southcom and other interagency security partners who support our country's national security," Garcia told the Washington Free Beacon
.
"There are major hubs that serve as entry points into the region for migrants from those areas of concern attempting to enter the U.S. along our border with Mexico," she said.
The infiltrators from terrorist states and unstable regions exploit vulnerabilities in commercial transportation systems and immigration enforcement agencies
in some of the countries used for transit, Garcia said."In 2015, we saw a total of 331,000 migrants enter the southwestern border between the U.S. and Mexico, of that we estimate more than 30,000 of those were from countries of terrorist concern," she said.Another problem in dealing with migrants from the Middle East, North Africa, and South Asia is a lack of information among the governments of the countries used by potential terrorists for transit.The exploitation of alien smuggling networks by terrorists until recently had been dismissed by both American security officials and private security experts as largely an urban myth.However, the Southcom intelligence report revealed that the threat of Islamist terror infiltration is no longer theoretical. "This makes the case for Trump's wall," said one American security official of the Southcom report. "These guys are doing whatever they want to get in the country."Adm. Kurt Tidd, Southcom's commander, said last week that the lack of information is hampering security efforts against alien smuggling."An element that has been long recognized is that our ability to track people moving through transportation systems is an area that we must continue to devote efforts on, and the ease with which human traffickers are able to use our transportation systems to move people through the networks relatively undetected should give us all concern," Tidd said.Special interest aliens are described by the U.S. government as aliens who pose a potential terrorism threat coming from 34 nations in the Middle East, Africa, Southwest Asia, Central Asia, and East Asia. The list of states of concern includes Afghanistan, Iran, Kuwait, Iraq, Lebanon, Syria, Eritrea, Libya, Saudi Arabia, Pakistan, Indonesia, and Malaysia.Republican presidential nominee Donald Trump last week called for stepped up counterterrorism measures that he said would involve "extreme vetting" of immigrants in a bid to better screen out potential terrorists.Trump also has made a campaign theme the construction of a wall across the United States' southern border as part of efforts to better control the flood of illegal immigrants.Joel Vargas, head of Contingent Security Services and a consultant to law enforcement agencies, said there is no evidence Sunni extremists are creating new relationships with alien smugglers. However, he said in an email that "existing smuggling networks from Central America are increasing their access.""We have intercepted immigrants coming from Asia but we have been unable to determine if they are extremists," Vargas said. "Our Sunni illegal migration coming from [Latin America] is very small. On the other hand, they can use the networks set up by the Shia."A report produced by Vargas for the International Airport, Seaport and Transport Police states that the Iran-backed Shiite terror group Hezbollah mainly has ties to Latin American through overseas Lebanese expatriates.Hezbollah recently increased support in transnational crime in the region by supply arms and training to various groups."Hezbollah's current goals appear to be focused on accruing resources rather than conducting offensive operations, however the group's growing capabilities are still a clear threat to regional U.S. interests," the report said. "Iran's involvement in Latin America is also increasing, and Hezbollah will likely be able to use these budding political and economic ties as cover for its operations."
Read the full article here.
http://freebeacon.com/national-secur...trating-south/
__________________
Gangs In Chicago Reportedly Agree To Use Snipers And Automatic Weapons Against The Police
The Prophet Joseph Smith once made a profound prophecy concerning the city of Chicago. This prophecy was recorded in a letter written by Nephi Packard, a faithful member of the LDS church. He wrote:
"My brother, Noah Packard, says that he heard the Prophet Joseph Smith say that the next great (U.S. civil) war after the war of the rebellion (the Civil War of the 1860's between the North and the South) would commence in a little town now called Chicago but at that time it would have grown to be a very large city. And another brother told me that the Prophet said that the cause of the next great trouble of the United States would be the depreciation of the currency of the United States." (LDS Church Archives, letter from Noah Packard to A. Milton Musser, July 24, 1896).
Of the thousands of cities Joseph Smith could have mentioned, the prophet's designation of Chicago as a future trouble spot is a clear reminder of his prophetic mantle. We are now on the verge of that prophecy being fulfilled. This article by Michael Snyder on the Sleuth Journal website shares how there are already more than 150,000 gang members in Chicago. They outnumber law enforcement officers 10 to 1. Now comes the news that these gangs have automatic weapons and are placing snipers in strategic locations. I think the end is near there.
Once the prophecied incident occurs and we have economic trouble, these gangs will go on a rampage. Civilized life in Chicago and the surrounding areas will be a distant memory.
Is the city of Chicago about to see a wave of unprecedented chaos and violence? The facts that I am about to share with you may seem fantastical at first glance, but they come from the Chicago police and they are being reported by the mainstream media. According to authorities, at a recent gathering of major gangs in the city it was agreed that they would use automatic weapons against the police, and at least one of the gangs already has "a sniper in place" but officials do not know where that sniper is located. As I have warned before, a spirit of violence and civil unrest

is rising in America

, and the number of police officers that were shot and killed during the first half of 2016 was

78 percent higher

than during the first half of 2015. Anyone that does not understand that we have a major problem on our hands has simply not been paying attention.
This meeting of major gangs in Chicago was described as a "summit"

by ABC Chicago

, and an alert about the security threat that this poses was sent out to every police officer in the city on Friday…
Chicago police officers are being warned about a security threat involving possible attacks by gangs on the city's West Side.
ABC7 has obtained a warning that the department sent out to every police officer on Friday.
The warning described a summit between senior West Side gang members in which they "agreed to use automatic weapons against Chicago police officers."
The alert also said one gang provided guns and placed a sniper at an unknown location.
An article published

by the Chicago Sun-Times

went into even greater detail about this story. Apparently the three gangs involved in the summit were the Vice Lords, the Black Disciples and the Four Corner Hustlers, and reportedly it is the Four Corner Hustlers that will be providing automatic weapons to members of the other two gangs…
The meeting took place Thursday between higher-ups from the Vice Lords, Black Disciples and Four Corner Hustlers, according to an alert issued to department members the day after the meeting.
The Four Corner Hustlers "provided guns" and have "a sniper in place" though authorities do not know where, according to the alert. The Four Corner Hustlers also are supplying the other two gangs with automatic weapons, which all three factions also have agreed to use against police, the alert states.
It appears that what precipitated this "summit" of major gangs was the shooting death of 18-year-old Paul O'Neal.
That incident made headlines all over the nation and resulted in very large protests

in downtown Chicago

…
Tensions remain high in America's third-largest city just days after video footage emerged of the moments leading up to the fatal shooting of Paul O'Neal, an 18-year-old African-American teen.
O'Neal was gunned down by officers back in July after he stole a car and got into a chase with cops which ended in the city's South Shore neighborhood.
Last week, demonstrators in downtown Chicago blocked streets and traffic while protesting the shooting.
If you don't live in the Chicago area, you may not be aware of the massive gang problem in the city.
Four years ago, the Chicago Crime Commission estimated that there were
150,000 gang members

currently living in the city. That was the highest number in the entire nation, and since then that number has certainly only gone up.
Meanwhile, there are just

13,318

law enforcement officers of all descriptions in the city of Chicago.
So essentially the police are outnumbered by a more than 10 to 1 margin, and now the gangs are planning to use automatic weapons?
These are ominous times for the Windy City.
Read the full article here.
http://www.thesleuthjournal.com/gang...eapons-police/
Russia and Turkey: The Axis of Upheaval



In the early 2000s, U.S. President

George W. Bush

used the term "axis of evil" to describe governments he accused of helping

terrorism

and seeking

weapons of mass destruction

. Iran,

Iraq

, and North Korea were portrayed as common enemies of the United States, and President Bush used the phrase to rally the country in support of the

War on Terror

.

However, in the past few months I've seen a new union forming that will overshadow that threat. Russia and Turkey are teaming up, and I call it the "axis of upheaval." Their combined strength and purpose could squeeze the United States right out of the Middle East. Those two powers are also courting Israel, filling the void left by the United States when the Obama Administration turned its back on the Israelis. Here's a portion of an article published by Debkafile.com that explains what is happening there.

Turkey - in full momentum since the Erdogan-Putin summit on Aug. 9 - is setting a rapid pace for its rapprochement with Israel.

Saturday, Aug. 20, the Turkish parliament ratified the reconciliation agreement Ankara signed with Jerusalem and Prime Minister Binali Yildirim announced that ambassadors would be exchanged soon. There is even mention of Turkey's President Tayyip Erdogan visiting Israel in September.
Both Ankara and Jerusalem are quickly moving on from their sharp exchange of recriminations this week, over the massive IDF military retaliation against Hamas Sunday and Monday for a missile fired from the Gaza Strip.

Israel harshly reproved Turkey for its condemnation, as hardly in a position to interfere in another government's response to terrorism. Erdogan uncharacteristically held silent and let Israel have the last word.

Erdogan and Israel's Prime Minister Binyamin Netanyahu are clearly of one mind that nothing should be allowed to hinder their burying of the hatchet.
In today's Middle East's crazy slalom of events, where every few hours new conflicts spring up and new deals are forged – only to end in tatters a couple of days later (e.g. Tehran's abrupt reversal of its permission to allow the Russia an air base in Western Iran), bilateral realpolitik is bound to be the order of the day.Yesterday's enemy might be today's friend, and today's friend might become tomorrow's enemy.

The emergence of Turkish President Erdogan on the world scene the past few months is an intriguing development. He was elected as Turkey's 12th president in 2014, and he has wasted little time making waves. For someone who was nearly overthrown in a military coup a few weeks ago, he has emerged stronger than ever. He and Vladimir Putin have sought to overlook their differences, and their cooperation spells danger to the Western world. Here's another excerpt from the Debkafile article:

The mercurial Turkish president initiated a series of earthshaking moves in the past two weeks:
He rid the strategic southern Turkish Incirlik base of the US nuclear arsenal, and is keeping the future of US warplanes there for operations in Syria up in the air, amid talk of opening the base for the use of the Russian air force.
Joined Russia and Iran to establish a new Middle East alliance.
Opened a direct line of communication from Ankara to Syria's Bashar Assad. Turkish MIT Secret Service director Hakan Fidan paid a visit to Damascus. Working with Israel therefore did not stop the Turkish leader from going after a deal with the Syrian ruler at the same time.
Erdogan plans a visit to Tehran for a grand friendship photo op with Iranian leaders with the same fanfare as his summit with Vladimir Putin.
That summit which ended in an accord to prevent the Kurds from gaining independence in Syria and Iraq let Ankara off the leash for an all out offensive against the YPG Syrian Kurdish army in northern Syria.
Wednesday, Aug. 24, the Turkish army crossed the border to attack ISIS strongholds in the border town of Jarablus, so intervening in the Syrian conflict to block the Kurdish assault on the jihadists.
Ankara has also stepped up its interference with Egyptian and Saudi policies in the Middle East.

How does the Turkish leader reconcile his contradictory polices? On the one hand he initiates open friendship with Israel while, at the same time, forging alliances with its enemies in Tehran, Damascus and Gaza. How does Israel perceive Ankara's hostile steps against its friends and allies, the Americans, Egyptians, Saudi and Kurds? The wily Erdogan appears to believe that he can use his friendship with Israel as a fig leaf. Whenever the U.S. or others chastise him for his negative actions, he can point out that even Israel goes along with his policies.

To anyone who is well-versed in Biblical prophecy, it is clear that the strange friendship of Turkey and Israel can only end badly for the Israelis. There will be a day when Israel will stand alone against the entire world, and some people believe President Erdogan himself will be their oppressor. Even the Debkafile commentator seems to agree:

Israel can't afford to let itself be used as Erdogan's alibi without damaging its precious ties with Washington and risk impairing the understandings Netanyahu has been able to develop with Egypt and Saudi Arabia. It would be a mistake to try and isolate the relationship with Ankara as a purely bilateral issue without expecting a backlash on Israel's other ties.

That leads us to the current "bromance" between Vladimir Putin and Erdogan. The following analysis from Stratfor.com sums it up nicely. As you read it, though, you can't help but wonder why the United States is watching these developments from the sideline—or better said, from the putting green that President Obama adores.

Perhaps nothing epitomizes the cozier relationship between Russia and Turkey better than the lunch Turkish President Recep Tayyip Erdogan and Russian President Vladimir Putin had from plates painted with a picture of the two shaking hands — but potential joint strikes on the Islamic State come close. On Thursday, Turkey and Russia began meetings in St. Petersburg focused specifically on how to address the Syrian conflict under the framework of a "trilateral mechanism" involving Damascus.Iran, too, is trying to get in on the action. Iranian Foreign Minister Javad Zarif is expected to meet with his Turkish counterpart and Erdogan on Aug. 12 in Ankara, and rumors are circulating that the dialogue between Iran, Russia and Turkey could soon expand to also directly include Syria.

By proposing to wage joint strikes with Russia against the Islamic State, Turkey wants to reduce the risk of reprisal from Russia for its action in Syria. Russia, though, is determined to maintain tight control over the Syrian battlefield. Russia (and Iran) also, however, could benefit from aligning with Turkey — a U.S. ally and NATO member — to make it appear as though the United States is the lone irrational outlier in Syria. Russia's interests, therefore, seem to contradict one another. However Russia responds to Turkey's proposals, it will help determine the trajectory of the Syrian conflict.
It might seem that with Turkey's new willingness to negotiate, anything is possible, but Turkey also must be careful that its diplomacy with Russia and Iran does not backfire. If Turkey becomes too friendly with either country, its relationship with its Syrian rebel proxies could crumble. In fact, some rebel groups have already distanced themselves from Ankara. Even more critical is the potential damage to Turkey's already tense relationship with the United States and its other NATO partners.

Turkey's membership in NATO

is crucial for both Ankara and the alliance, and Turkey will undoubtedly be careful in how it develops its new relationships with Russia and Iran, two NATO foes.

The situation is shaping into a dangerous dance, with Iran and Israel each vying for attention from their powerful neighbors, even though the two smaller countries despise each other. The events of the next few months will determine the alliances of World War III and eventually the Battle of Armageddon. Stay tuned . . .

This issue of the GRI Newsletter is filled with important articles that give a solid perspective on what is happening in the world, and how these events directly affect our daily lives.

In regard to National and Constitutional Issues, I discuss how Chicago's gang problem is exploding—and now the gangs have automatic weapons. I also share how Sunni extremists are making their way into the U.S. via the border with Mexico.

Concerning the Economy, I include an article that details the massive layoffs in the U.S. tech industry, and how those jobs aren't coming back. I also explain how ObamaCare has been a train wreck for the nation, and how it is particularly affecting rural America.

The biggest news in the Middle East and Europe the past couple of days is the powerful earthquake that struck Italy. Is it a precursor of what we will face in America? I also analyze the German government's edict for the citizens to stockpile food and water in preparation for upcoming events.

When it comes to Russia and China, in addition to what I've already explained in the Executive Summary, the Russian Communications Ministry is looking to clamp down on the internet there. Also, I discuss the implications of China building its first overseas military post in Africa.

In the Government Infringement section, I show that there appears to be another "superspy" with the NSA who is sharing sensitive information. I also explain how California is moving forward with a proposal that could send adults to jail if they refuse government-mandated vaccines.

In LDS Insights,I talk about the LDS Church's new emphasis on teaching members how to defend religious freedom. I also look at the case of an Air Force major who is in trouble for leaving an open Bible on his work desk.

In the Preparing for the Callout section, I discuss the growing danger of Yellow Fever, and what it could mean to Americans. I also share an article about the flooding in Louisiana and how some simple preparations could make a world of difference in a time of crisis.

As we head into a turbulent autumn season, I hope these articles can help you stay focused on the things that matter most, and better see what is coming soon to our nation.

Chad Daybell


__________________
---------------------------------------------------------------------------------------------------------