Elder Dallin H. Oaks Speaks on Religious Freedom at University of Oxford
"None of us can ignore the importance of religion globally — in politics, conflict resolution, economic development, humanitarian relief, and more," said Elder Dallin H. Oaks of the Quorum of the Twelve Apostles of The Church of Jesus Christ of Latter-day Saints during a lecture Thursday, June 9, 2016 at St. Johns College at the University of Oxford.
Elder Oaks leads special Mormon regional conference on 'defining issue' of religious freedom
---
By Tad Walch | Posted Sep 10th, 2016 @ 8:33pm
---
COLLEYVILLE, Texas — The concerns of senior LDS Church leadership over a dilution of support for religious liberty culminated Saturday night in a special conference for 25 Mormon stakes in the Dallas-Fort Worth area.
"We hope that what we say here will explain why members of The Church of Jesus Christ of Latter-day Saints must be committed to maintaining the free exercise of religion, and why all citizens of this nation should be supportive of this effort," said Elder Dallin H. Oaks, who is second in seniority in the faith's Quorum of the Twelve Apostles.
"A paramount motive for this Regional Religious Freedom Conference," he added, "is to get our members involved in a constructive way in the vital contest for religious freedom."
Mormons and those of other faiths say they face an increasing number of attacks on their beliefs from elementary school settings to graduate classes and from the workplace to social media. Meanwhile, their leaders have noted the rise in the number of Americans who profess no faith or who staunchly support nondiscrimination rights and bristle at professions of belief.
Six members of the Quorum of the Twelve are among senior Mormon leaders who have addressed the issue in more than 30 talks around the world in the past few years alone.
"But how do we begin to put their words into effect?" said Elder Von G. Keetch, a General Authority Seventy who conducted Saturday's meeting. "What can each one of us do as a practical matter to make a difference?"
Earlier in the day, the church launched a new webpage,
religiousfreedom.lds.org
, packed with resources for defending the principle of religious liberty. Much of Saturday night's two-hour program focused on such practical issues, with presentations by the church's general counsel and three religious liberty lawyers.
Essential right
Elder Oaks provided what another presenter described as a clarion call to church members to defend the civil right of religious liberty. He explained why it so important to the LDS Church and its members.
"Latter-day Saints are committed to the free exercise of religion because the fulfillment of God's Plan of Salvation is only possible under the free exercise of religion guaranteed in our God-inspired Constitution," Elder Oaks said. "Thus, for us, the free exercise of religion is not just a basic and cherished principle of our Constitution. It is essential to God's Plan of Salvation. In pursuit of that Plan, all of the children of God must be free to act upon their choices. The free exercise of religion allows all men and women to choose to develop faith in God, to worship him and to act on their beliefs and choices. All of this permits the children of God to become what He wants them to become."
He said powerful forces, including political correctness, are trying to weaken the free exercise of religion or place it under siege, seeking to replace it with other rights or priorities, "such as the powerful emerging right of nondiscrimination."
For example, the U.S. Commission on Civil Rights issued a report on Wednesday that,
a Washington Post columnist said
, determined that sexual liberty trumps religious liberty.
Elder Oaks addressed the general issue.
"As the power*ful emerging right of non-discrimination has been accommodated in the law," he said, "many rank it above the constitutional guarantee of free exercise of religion, contending that religious freedom must be curtailed wherever it conflicts with non-discrimination. To such I say please respect the laws that provide unique protections for believers and religious institutions." He said some public policy advocates have tried to intimidate people of faith from influencing or making laws, arguing that religious people are trying to impose their views on others. "These arguments leave me wondering," Elder Oaks said, "why any group of citizens with secular-based views are free to seek to persuade or impose their views on others by a democratic law-making process, but persons or organizations with religious-based views are not free to participate in the same democratic law-making process?" Fairness and civility
Elder Oaks repeated the consistent themes of several talks he's given over the past two years. First, that the LDS Church's position is one of "fairness for all, including people of faith." Second, that all should proceed with respect and civility for all people, avoiding contentious communication.
"We are here," he said, "to talk about how to preserve religious freedom while living with the differences that exist in our society, among friends and neighbors, and even within our families. We are also here to consider how to explain our goals and efforts without encouraging the misunderstandings that detract from our common desires to live in an atmosphere of goodwill and peace."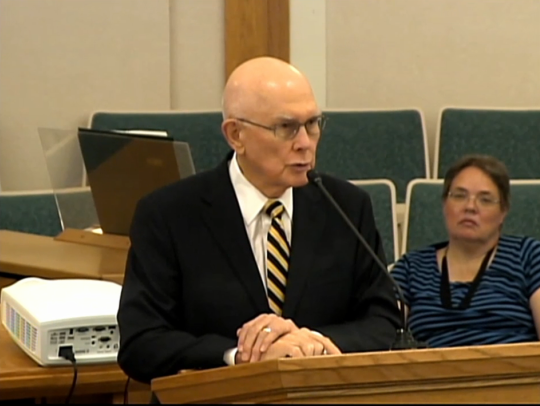 He also repeated themes about the religious freedom as a strong force for peace, and stability, dignity, charity, moral progress, social good, checking government, service and economic development.
"The weakening of any part of the First Amendment weakens it all. Religion has an honored and uniquely favored place in our public life. The First Amendment framers' guarantee of 'free exercise of religion' rather than just 'freedom of conscience' shows an intent to extend its unique protections to
actions
in accordance with religious belief."
He ended with a brief message of hope for the future.
The conference also served as another platform for rolling out to church members the specific strategy church leaders have outlined for thinking about the defense of religious freedom.
Setting priorities
"The central principle to bear in mind is that not all religious liberty claims are 'created equal,'" said Elder Lance B. Wickman, general counsel of the church and an emeritus general authority Seventy. He first shared that vision at a BYU conference in July,
describing the position by assigning various religious freedoms to concentric circles
around a core.
The entire talk
is available at mormonnewsroom.org.
"Some rights are critical," he repeated Saturday night, "other perceived rights not so much. As a general principle, religious liberty claims are more compelling the more closely they relate to purely private, family and ecclesiastical matters; and conversely, less compelling the closer they get to public and governmental functions. There may be exceptions, but this is a good starting point."
"In summary," he added, "there is a hierarchy of religious freedoms, and we have no choice but to set priorities. Those that relate to private and ecclesiastical contexts, or are part of the rights of all citizens, are the most basic and least subject to compromise, while those that relate to commercial and governmental settings will of necessity require greater pragmatism and compromise."
The meeting took place at the Colleyville Texas Stake Center and also included members of the Alliance and Hurst stakes. Members of 22 other Dallas-Fort Worth area LDS stakes participated through live broadcasts to their own stake centers.
Elder Wickman urged them to rally around Elder Oaks' message.
"Tonight," he said, "we have heard a clarion call from an apostle of the Lord to also be citizens in defense of our most basic civil rights — the freedom to practice our faith, the freedom to trumpet our beliefs in the public square and the freedom to live according to our core principles in every aspect of our lives."
Another priority for church leaders on Saturday was providing practical aid to members who find themselves in the trenches of debating religious freedom.
Alexander Dushku, an LDS attorney who has worked with the church on religious freedom issues for 20 years, shared basic religious freedom issues and ways to become better informed.
Matthew Richards, like Dushku a partner with the Salt Lake City law firm of Kirton McConkie, described how religious freedom is threatened and where members can find additional information.
Hannah Smith, senior counsel at the Becket Fund for Religious Liberty, talked about how to speak up with courage and civility. She also participated in a role play with Elder Keetch about how to answer hard questions.