America Is About To Change Forever - Episode 1100b
------------------------------------------------------------------------------------------------------------------------------
Vital information "Late-Additions" after the deadline for 2016-10-13
China
China Must Wean Itself Off Debt Addiction To Avoid Financial Calamity
England
Rise of the "Killer Clown" Vigilantes
British lawmaker likens Russia's behavior in Syria to that of Nazis
Divided U.N. Council Fails to Act to 'Save Aleppo'
IAEA chief: Nuclear power plant was disrupted by cyber attack
Germany
Banks Ponder the Meaning of Life as Deutsche Agonizes
Iran
The Terrorist Networks at Our Fingertips
Japan
Japan's Central Bank Writes Tokyo a Blank Check
Russia
Vladimir Putin cancels Paris trip as diplomatic crisis over Syria deepens
War Talk Is Back on Russian TV as U.S. Ties Hit Post-Soviet Low
Russia Says U.S. Actions Threaten Its National Security
Gorbachev Warns of 'Dangerous Point' as US-Russia Ties Sour
8 Alarming Warning Signs That Indicate War With Russia Could Be Imminent
South Korea
South Korea Will Shoot at Chinese Boats Fishing Illegally, Says Coast Guard
Saudi Arabia
For OPEC, a Production Cut Aims to Head off Further Price Drops
Turkey
Russia, Turkey: Why Economic Cooperation Is Accelerating
United States
Yahoo files patent for Minority Report-style 'smart' billboard that will spy on people passing by
Astroturf 'Outrage Machine' of Paid Trolls Floods Social Media to Counteract Negative News About Hillary Clinton
Miami Beach Mayor Philip Levine Sued for Blocking Critics on Social Media
Air Force's X-37B Space Plane Mystery Mission Wings by 500 Days in Orbit
Linda Tripp Exposes Hillary's Temperament: Threw Hard Objects, Endless Screaming, Profanity, Paranoia
Students Flood College Mental-Health Centers
Nuclear-armed Drones? They May Be Closer Than You Think
Commentaries
Prepping As A Form Of Personal Activism
Why Do Evangelicals Prefer Donald Trump to Hillary Clinton?
How Close is a U.S.-Russia War?
-------------------------------------------------------------------------------------------------------------------
The Unforeseen Side Effects of the Antibiotics Age
This article appeared on Stratfor.com and gives a sobering look at how the age of antibiotics has changed our world. Much of the article takes a world view on how we might be able to limit our dependence on antibiotics, but it brought to my mind the 2009 novel "One Second After" by William R. Forstchen. The novel deals with an unexpected
electromagnetic pulse
attack on the United States as it affects the people living in and around the small American town of
Black Mountain, North Carolina
.
The parts the struck me the most were the scenes involving people who no longer had their medicines.
Many people in the novel died within days, while other held on. But those who were reliant on pharmaceuticals to survive were the most susceptible. It also ties into the visions people have had of society breaking down, where people who don't have their medicines suffer greatly and rarely survive. This is just a small nudge to remind you to make sure you have the health-related items your family needs in a handy location, and that they haven't expired.
As President Monson says, "When the time for decision arrives, the time for preparation is past."
When Alexander Fleming discovered penicillin in 1928, he ushered in a new era of medicine:
the age of antibiotics
. Infections that had once been fatal could now be treated with relatively simple cures. In the decades that followed, penicillin became just one of many antimicrobial drugs that enabled humans and animals to live longer, more productive lives. The proliferation of those drugs seemed to have few, if any, downsides.But over the years, we have gotten into the habit of overusing and misusing antimicrobial medicines. Studies have shown that roughly one-third of U.S. antibiotic prescriptions are unnecessary. Approximately the same share of antibiotics consumed in Southern and Eastern Europe are taken without a prescription. At the same time, nearly two-thirds of the antimicrobial drugs used in Africa are considered substandard, thanks in large part to the sale of counterfeit medications. Each of these issues, along with drug precursors and untreated medical waste disposal, can help diseases become resistant more quickly than they otherwise would.
Despite the attention that has been paid to humans' reliance on antibiotics, the agricultural industry's use of the drugs may be more important to tamp down on in any campaign against drug resistance. By volume, 70 percent of the antibiotics approved for use in humans in the United States are used to treat livestock. And it is easy to see why: Studies show that a reduction in animal illness corresponds to a decline in human illness as well. The use of antimicrobial drugs in livestock can also promote animal growth and prevent or treat outbreaks among herds and flocks. For producers who are struggling to meet rising global demand for meat and poultry, boosting output is of chief concern.
Though it is impossible to pinpoint exactly how much the agricultural sector contributes to the mounting resistance to antimicrobial drugs, the gains in production it makes from antimicrobial use must be balanced against any risk it creates. But the short-term losses in output that producers might experience if they abandoned antibiotics make it unlikely that the sector will change much of its own volition. A substantial shift would probably come only in response to a massive change in policy — something that, given the power of the agricultural sector in many countries, seems fairly unlikely.
Source Article
https://www.stratfor.com/image/unfor...8-7b7f6dba7371
------------------------------------------------------------------------------------------------------------------------
What Can We Learn from History About Food When SHTF?
This wonderful article was written by an anonymous guest columnist on the Prepper Journal website. It really opened my eyes of ways I need to better prepare my food supply. It is a long article, but I assure you that it will change your perspective and give you plenty to think about. There are six sections, and at the end of each section is a "lesson" to learn. I have chosen not to highlight any particular sentences, because the things you need to implement into your own life might not be the same things I do.
It isn't a religious article, but I felt the Spirit guiding me as I read it.
Dive into it, and share it with others who could use these insights.
I'm always surprised, and often more than a little disturbed, when I hear folks say that when SHTF occurs, they'll just go hunting, or they'll trade for the food they need, or they've
got a few boxes of MRE's
, so they'll be fine. Such attitudes show a dismal lack of familiarity with history and what really happened in previous collapses. By learning about what happened, and knowing that history repeats, we can prepare better and avoid making the same mistakes when SHTF again.
I. Confiscation
Many countries around the world already have laws in place banning citizens from storing food in their homes. Fortunately, we have no such laws currently in the United States. However, we do have plenty of
executive orders allowing FEMA to confiscate food
for emergencies (and, of course, they get to define "emergency"). And we have historical precedent for the federal government to outlaw food "hoarding" and arrest individuals found in violation (see "
Navy Man Indicted for Food Hoarding
"). This man was betrayed by the grocer, but anyone from whom he purchased large quantities could have betrayed him, as well as anyone who could have observed the foodstuffs being carried into the home.
Lesson:
Don't discuss how much food you have with anyone
. Don't do all your shopping in one location. When you unload your groceries, do so in the garage with the door shut so that inquisitive eyes can be avoided.
II. Rationing
Whether in the name of fairness—making sure the poor are able to eat as well as the rich, making sure food gets to the troops, or merely controlling who gets the food—governments will ration food in times of crisis. During World War II, sugar was the first item to be rationed. Before ration books were received, individuals had to declare how much sugar they already had at home, and coupons in the books were adjusted accordingly. The allotment was one-half pound of sugar per person per week, so 26 pounds per year.
Households preserving fruits by canning were allowed a special allotment of 25 pounds of sugar per person per year. This was about half the normal annual consumption at that time. Currently, Americans consume an average of 120 pounds of sugar per year. The next foods added to the rationed items were coffee (though there was an abundant harvest in South America, all shipping was being diverted for the war effort); meat, excluding chicken (for the troops); cooking oils (most oils at that time came from lands occupied by the Japanese, and lard was used by the Navy to grease their guns); processed foods (due to a tin shortage); and, canned milk (to ensure babies and children had enough).
Lesson:
Build a generous food storage supply
, and especially include those items are entirely or largely imported, including sugar, cocoa, coffee, and oils.
III. Gardening
As food becomes scarce, the need to grow one's own becomes readily apparent. Fresh produce wasn't rationed during any of the recent wars, but at times it was just unavailable. So everybody had gardens. One debate currently raging in the prepper world is whether to plant heirloom seeds or hybrid seeds. In reality, there should be no debate. Both kinds should be stored. Heirloom seeds should be used because they breed true generation after generation. Hybrid seeds should be planted as well because they tolerate a greater range of adverse conditions and have higher yields.
In addition, the most
fortunate families already had several fruit trees
producing on their property. While we may not need to worry about government confiscating home-grown produce, that doesn't mean that our gardens are necessarily safe. Unfortunately, even today, before we have yet collapsed, we hear reports of gardens being raided. Invading armies in ancient times took whatever they easily could and frequently destroyed crops in the field that they couldn't carry with them. But they generally avoided the so-called peasant foods—root crops such as potatoes, turnips, carrots, and beets. They were too much work.
Lessons:
Grow your own food
to the extent possible. Plant some fruit trees. If possible, harvest root crops only as they are needed.
IV. Hunting
People who say they'll just hunt when food gets scarce
must either believe that no one else will be hunting
or that all the game will reproduce and grow to harvest size overnight. It just doesn't happen that way! In times of turmoil, wildlife becomes scarce quite rapidly. In fact, game in many areas were hunted to the point of near extinction during the Great Depression.

Furthermore, as animal populations decrease, the time required to hunt increases. Hunting may well become a luxury. Setting snares may prove to be a much better way to go.
Lesson:
Don't plan to feast on local wildlife when SHTF. At best it will be supplemental dog food.
V. Cooking
Particularly disturbing is the number of people who really do not know the basics of cooking and baking, not to mention having no familiarity with
how to use camp stoves or Dutch ovens to prepare a simple meal
. Most people, even preppers, eat from cans or packages that they pop in the microwave. Increasing numbers of people cannot make a simple loaf of bread. While it wasn't a time of war or political or economic turmoil, a rather alarming percentage of the 49ers in the United States' California gold rush died of disease because they were malnourished. Ninety percent of the 49ers were men; very few had brought their wives with them. Men wrote home to their families, apologizing for not recognizing the work they did in preparing food, and pleading with their wives and mothers to teach them how to cook rice and make biscuits.
Lessons:
Learn how to cook and
have hard copies of recipes
.
VI. Trading
I'm always puzzled by the staggering number of people who proclaim that when SHTF
they will simply barter for the food they need
. Why not just store what you want so that you know you have it? Those that have food available for trading will be in the driver's seat and setting the terms. Farmers prospered to an unbelievable degree in WWII Germany. Very early on they had all the hired help they could use—people who worked solely for meals and a place to sleep. As the war dragged on and even the wealthy were struggling to obtain food, the farmers began accepting Turkish rugs and handcrafted furniture in trade for a little food. Their wives had rings on every finger. The farmers needed nothing and could command the highest "prices" imaginable.
Towards the end of the war, one man's unrelenting begging finally persuaded the farmer to accept as payment an $8,000 family heirloom pocket watch as payment for a twenty-five pound bag of beans. That bag of beans sells for less than twenty dollars today. Just sayin'. But a person didn't need to be a large-scale farmer to do well. I had an acquaintance whose friend in the Depression raised chickens. He bartered the chickens for items he wanted, but didn't necessarily need. He would usually propose a trade that he knew would initially be rejected, but eventually the other guy would come around within a week or so. In one case he traded three chickens for a motorcycle the family could no longer use because gas was unavailable.
This gentleman built wealth for his family by offering goods that were in demand. Because we have drifted so far from our agrarian roots, many city and suburban dwellers will be easily fooled. Two families in Germany pooled their valuables to trade for a goat to produce milk for their children. Unfortunately, the city dwellers lacked some critical life skills. They ended up having to give the butcher half of the Billy goat as payment for butchering.
Lessons:
Be able to raise your own food.
Raise chickens or rabbits for barter
. Learn some life skills. FFA and 4-H are good programs for children (and parents!) to learn to raise small and large livestock.
During World War II ration books enabled governments to control the food. The move toward a cashless society where every purchase is recorded on cards will make controlling food—and tracking who has it—much easier. Gather your food now.
You can never really have too much
. Learn principles of food storage—how and what to store, where to store it, how to cook it, how much you need. Pay with cash—no store rewards card, no Costco or Sam's cards. Don't lead the government to your door. Certainly don't shop where you are known—don't lead acquaintances to your door. In closing, remember what Henry Kissinger said in 1970: "Control oil and you control nations; control food and you control the people."

Source Article
http://www.theprepperjournal.com/201...ory-food-shtf/
-----------------------------------------------------------------------------------------------------------------------
Valiant in the Testimony of Jesus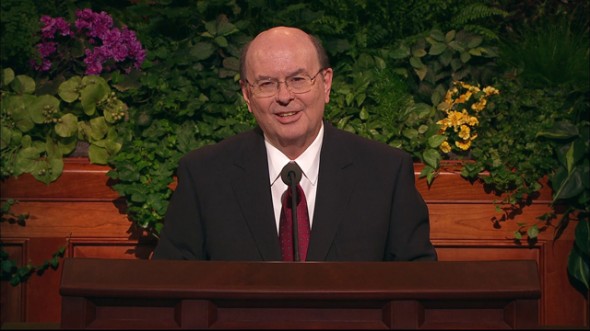 This General Conference address by Elder Quentin L. Cook of the Quorum of the Twelve Apostles easily generated the most comments on AVOW and in prepper circles, but I have refrained until now to comment on it.
I admit my blood pressure climbed just a little following his statement about "expensive preparations."
Like many listeners, I first thought he said "extensive preparations" and it felt like he was contradicting other statements by the brethren. It also seemed that he was picking on a very small group of active Mormons who are seeking to do good, but once I read it in print I saw his overall purpose was to give an emphasis to "looking beyond the mark."
I did worry Elder Cook's comment would lead to more persecution, but I was happy to see that Salt Lake's anti-Mormon station KUTV was too busy following 20 members of the Ordain Women group marching around Temple Square. They were too wrapped up in that to pay attention to anything being said over the pulpit. So we dodged a bullet there.
If Elder Cook had spoken during the Sunday morning session, we likely would have had more backlash, but thankfully the address was given during the Saturday afternoon session, and therefore wasn't heard by most of the vocal critics who limit their General Conference viewing to the Sabbath.
The talk itself is powerful and a good reminder to all of us to keep the Savior at the center of our lives.
We shouldn't become extreme in any aspect of the gospel.
I have included the section of the talk concerning "looking beyond the mark" and it is worth carefully reviewing.
Looking beyond the Mark Is a Stumbling Block
The prophet Jacob referred to ancient Jews as "a stiffnecked people [who] despised … plainness, … killed the prophets, and sought for things that they could not understand. Wherefore, because of their blindness, which blindness came by looking beyond the mark, they must needs fall."While there are many examples of looking beyond the mark, a significant one in our day is extremism. Gospel extremism is when one elevates any gospel principle above other equally important principles and takes a position that is beyond or contrary to the teachings of Church leaders. One example is when one advocates for additions, changes, or primary emphasis to one part of the Word of Wisdom. Another is expensive preparation for end-of-days scenarios. In both examples, others are encouraged to accept private interpretations. "If we turn a health law or any other principle into a form of religious fanaticism, we are looking beyond the mark."
Speaking of important doctrine, the Lord has declared, "Whosoever declareth more or less than this, the same is not of me." When we elevate any principle in a way that lessens our commitment to other equally important principles or take a position contrary to or which exceeds teachings of Church leaders, we are looking beyond the mark.
In addition, some members elevate causes, many of which are good, to a status superior to basic gospel doctrine. They substitute their devotion to the cause as their first commitment and relegate their commitment to the Savior and His teachings to a secondary position. If we elevate anything above our devotion to the Savior, if our conduct recognizes Him as just another teacher and not the divine Son of God, then we are looking beyond the mark. Jesus Christ is the mark!
The
76th section of the Doctrine and Covenants
makes it clear that being "valiant in the testimony of Jesus" is the simple, essential test between those who will inherit the blessings of the celestial kingdom and those in the lesser terrestrial kingdom. To be valiant, we need to focus on the power of Jesus Christ and His atoning sacrifice to overcome death and, through our repentance, to cleanse us from sin, and we need to follow the doctrine of Christ. We also need the light and knowledge of the Savior's life and teachings to guide us on the covenant pathway, including the sacred ordinances of the temple. We must be steadfast in Christ, feast upon His word, and endure to the end.

Source Article
https://www.lds.org/general-conferen...jesus?lang=eng
---------------------------------------------------------------------------------------------------------------------------
ACLU: Police Use Twitter, Facebook Data to Track Protesters
This article by Andrew Tarntola on Engagdet.com is another testament that the social media accounts we so willingly sign up for can easily be used against us. Law enforcement officials are becoming more open and brazen about the tactics they are using to track down troublemakers. In the cases of Ferguson and Baltimore, it appears they didn't fully act on the information they had obtained, but it lays the groundwork to use such techniques during the next round of rioting. The focus right now is on controlling protesters, but with the way religious rights are being steadily eroded, it isn't too far of a stretch to have government officials track those who "like" certain religious practices or who post photos taken at locations such as LDS temples.
The battle lines are being drawn, whether the average Mormon knows it or not.
According to an
ACLU blog post published on Tuesday
, law enforcement officials implemented a far-reaching surveillance program to track protesters in both Ferguson, Missouri and Baltimore, Maryland during their recent uprisings and relied on special feeds of user data provided by three top social media companies: Twitter, Facebook and Instagram.
Specifically, all three companies granted access to a developer tool called
Geofeedia
which allows users to see the geographic origin of social media posts and has
been employed by more than 500
law enforcement organizations to track protesters in real time.
Law enforcement's ability to monitor the online activities of protesters could have a chilling effect on First Amendment rights, the post asserts. "These platforms need to be doing more to protect the free speech rights of activists of color and stop facilitating their surveillance by police," Nicole Ozer, technology and civil liberties policy director for the ACLU of California, told the
Washington Post
. "The ACLU shouldn't have to tell Facebook or Twitter what their own developers are doing. The companies need to enact strong public policies and robust auditing procedures to ensure their platforms aren't being used for discriminatory surveillance."
Facebook (which owns Instagram) provided Engadget with the following comment, "This developer only had access to data that people chose to make public. Its access was subject to the limitations in our Platform Policy, which outlines what we expect from developers that receive data using the Facebook Platform. If a developer uses our APIs in a way that has not been authorized, we will take swift action to stop them and we will end our relationship altogether if necessary."
All three companies have sought to restrict Geofeedia's access to their data in recent weeks.
Instagram and Facebook reportedly terminated access to their respective APIs on September 19th. Twitter renegotiated their contract with the subsidiary that granted Geofeedia access with additional terms to safeguard against surveillance and sent the analytics company a cease and desist letter on Monday before shutting down access altogether earlier today.

Source Article
https://www.engadget.com/2016/10/11/...ck-protesters/
__________________
Christopher M. Parrett
Enlarge the place of thy tent
,
and let them stretch forth the curtains of thy habitations; spare not, lengthen thy cords and strengthen thy stakes..
"
There are some things just too sacred to discuss: not secret, but sacred; not to be discussed, but to be harbored and protected and regarded with the deepest of reverence
.
(President Packer TYD, pp. 86–87)
The degree of our preparation will be equal to the extent of our obedience, which will determine the measure of our peace of mind.
#
11
20 Hours Ago -
Add Post To Favorites
Currently: Prepping like there is NO Tomorrow

Owner / Administrator, (Head SheepDog)

Forum Moderator

Join Date: Sep 2005

Location: Rigby Idaho

Age: 53

Religion: LDS

Posts: 77,821

Mentioned: 46 Post(s)

Tagged: 3 Thread(s)

Thanked 321,457 Times in 45,126 Posts

Rep Power:

1
The Scary Truth About What Putin Really Wants (and Obama's Willful Ignorance)
---
The Scary Truth About What Putin Really Wants (and Obama's Willful Ignorance)
The new version of the GRI Newsletter has been underway for about a year now, and I believe if I did a search through the past issues, the words "Vladimir Putin" would appear every time. He has had a busy year, but as this commentary by Judith Miller of Fox News shows, the U.S. intelligence community—not to mention the media—seem to have no clue about what his goals are. I have no qualms identifying Putin as one of Satan's key mortal henchmen. His work as a KGB officer brought him the training to mastermind Russia's current resurgence. Yes, Russia faces financial issues, but that doesn't stop Putin from devoting precious resources to the country's military. This quote from the article sums it up well:
"In the face of Putin's naked aggression in Europe, the West has shown a level of incompetence that approaches impotence."
I firmly believe that the Lord will protect America as long as the people are righteous, but as I explained in my Executive Summary, we have passed that point as a nation. Putin will follow the directions of his supreme commander—Satan—and bring havoc and death to this country. He won't prevail in the end, but he will have succeeded in bringing down the greatest country in the history of the world.
What is Vladimir Putin up to? Evidence of Russian ambition seems to mount by the day. Seizing its neighbor's territory. Russian bomber overflights of NATO member states. Sophisticated cyberattacks aimed at influencing America's presidential election. Missiles fired at civilian aircraft. Devastating air strikes on hospitals and relief convoys in Aleppo as the ink dries on a U.S.-Russian cease-fire agreement for Syria. American accusations of bad faith and the suspension of diplomatic talks.
Russia's agenda should appear clear by now
. But the U.S. intelligence community is apparently divided over whether President Putin's provocations are "tactical," that is, the result of geo-political opportunities that he has cleverly seized, or "strategic," part of a coherent plan to undermine America and, as one American presidential nominee might put it, make Russia great again.Having failed yet again to predict most of Putin's startling diplomatic and military gambits, a majority of intelligence analysts reportedly continue to insist that Putin has no grand scheme to confront America, that his policies have been aimed at boosting his personal image at home and Russia's international standing abroad to deflect attention from the country's grave and growing economic woes. The escalating clashes between Russia and America and its allies, as David Sanger recently wrote in The New York Times, echoing the White House's and intelligence analysts stubborn consensus, fall far short of a new Cold War. There is no "great ideological struggle underway," he writes.

Veteran Democratic pollster (and Fox News contributor) Douglas E. Schoen, with Evan Roth Smith, his colleague and co-author, adamantly disagree. In this new book, "Putin's Master Plan, (Encounter Books, September 27, 2016)" they argue forcefully, and convincingly to many observers, that Putin's global goal is to undermine the West and liberal democracy and that he has a clearly defined strategy for doing so.
Putin seeks to "usher in a new world order" reminiscent of that during the Cold War
, they write, by systematically attempting to "destroy Europe, divide NATO, and restore Russian power and global influence," the subtitle of the book.
The United States and its allies, Schoen asserts, play into Putin's hands by failing to resist Russia's aggression
. Washington, in particular, has failed to exert the "clearheaded, decisive Western leadership" essential to halting such conduct, especially in Europe. "In the face of Putin's naked aggression in Europe, the West has shown a level of incompetence that approaches impotence," they write. A harsh, but not unfair verdict.Rather than unearth reams of new intelligence, Schoen and his co-author make their case largely by mining public sources, describing case after case of Russian aggression, anddocumenting Putin's extensive use of "hybrid warfare" – conventional force plus unconventional forces, cyberwar, subterfuge and propaganda.Five of their nine chapters are devoted to the techniques Putin has used to promote his goals –covert and overt support for left-wing groups, predictably, and unpredictably, for right-wing parties which also oppose NATO and the European Union.
The book cites warnings from Europeans and other targets of Kremlin intrigue that are so often ignored in the U.S.
The cost of failing to counter Russian probing, provocation, and aggression, they maintain, is high.Schoen, one of the most influential Democratic campaign consultants for thirty years, blames the last three American presidents for the failure to confront Putin. But President Obama receives the brunt of this withering critique of America's foreign policy.Schoen is most knowledgeable, and passionate, in decrying America's policy towards Ukraine, a country he knows well thanks partly to his role as an adviser to the country's leading pro-Western oligarch, Victor Pinchuk.

Source Article
http://www.foxnews.com/opinion/2016/...ignorance.html

__________________
---------------------------------------------------------------------------------------------------------
Russia Says It's Joining China to Counter U.S. Missile Defense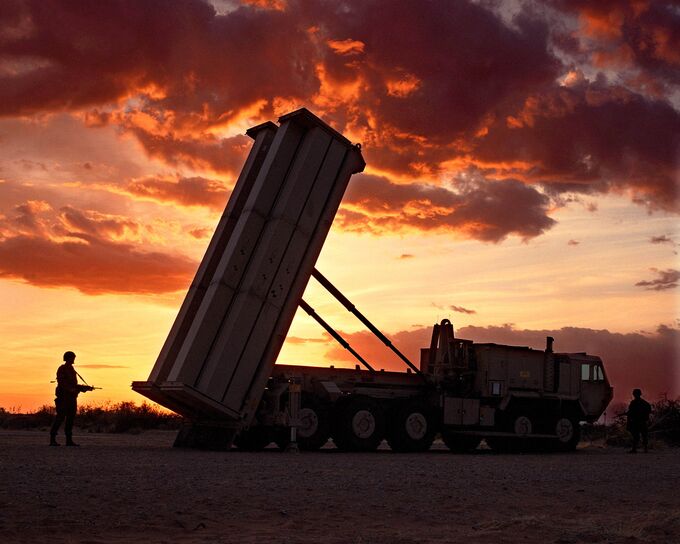 This article by Ilya Arkhipov on the Bloomberg website highlights the growing rift between the United States and the current tag-team of Russia and China. It is interesting yet tragic to trace how America's leaders have let both of these vital international relationships sour during the past twenty years. There have been times when there truly seemed to be a sense of unity and effort among the three superpowers to work together.
During China's years of economic prosperity, the United States could have really solidified their friendship, instead of letting it weaken to the point they now view America as its enemy.
I place the blame squarely on the current administration. The past eight years of presidential blunders and foolishness are just the tip of the iceberg of why America is essentially friendless in the world. These two superpowers are holding joint missile-defense exercises, and we weren't invited to the party.
I realize that Russia and China have stepped up the rhetoric to serve their own purposes, but sadly the things they are accusing us of—such as targeting their military assets—are rooted in fact. Our leaders have helped speed up the animosity and distrust, and those "joint exercises" have ominous tones. Let's be serious. Those soldiers know they aren't preparing to attack Iceland or Australia.
They have their eyes on the biggest prize of them all, and we are woefully unprepared for their arrival.
Russia said it's working with China to counter U.S. plans to expand its missile-defense network, which the two nations see as targeting their military assets.The upgrades aim to give Washington the ability to launch a nuclear strike "with impunity," Lieutenant General Viktor Poznikhir of the Russian Armed Forces General Staff said Tuesday at a security forum in Xiangshan, China, according to a transcript of his speech posted on the Defense Ministry's website. The Asian neighbors this year conducted a joint missile-defense exercise of their computer command staff, he said."We are working together on ways to minimize possible damage to the security of our countries," Poznikhir said. "The illusion of invulnerability and impunity under the guise of missile defense will encourage Washington to make unilateral steps in dealing with global and regional issues. This could lead to a decrease in the threshold for using nuclear weapons to preempt enemy actions."Russia's concern about U.S. nuclear capabilities highlights a deepening rift between the Cold War foes as they trade accusations over the war in Syria. While NATO members have stressed that the alliance's global missile shield will be a defense solely against potential attacks from so-called "rogue states," particularly Iran and North Korea, Russia and China have been voicing concerns over their own security.In May, Russian President Vladimir Putin
said
that placing parts of the system in Romania and Poland -- once Soviet satellites -- is threatening peace in Europe and warned that it may trigger a new arms race. China described the U.S. Terminal High Altitude Area Defense system as an "out-and-out strategic" move that threatens its national security, warning about taking "necessary measures to safeguard" its interests. The plan has already
soured
Chinese ties with South Korea.According to Poznikhir, the U.S. defense system includes weapons that, if fired from a warship in the Baltic Sea, can intercept ballistic missiles launched from the European part of Russia before a nuclear warhead is separated. U.S. missile defense launchpads can also be used for Tomahawk cruise missiles and there is no guarantee that such systems wouldn't replace Thaad complexes in South Korea, he said.

Source Article
http://www.bloomberg.com/news/articl...issile-defense
----------------------------------------------------------------------------------------------------------
The financial troubles in Germany have been mostly ignored by mainstream American journalists. They have enough fodder to fill their broadcasts just from the presidential election alone, not to mention Kim Kardashian's jewelry getting stolen in Paris. But there are more important matters happening in the world, and this article by Daisy Luther of the Sleuth Journal sums up how Germany's banking problems are going to begin spreading like evil tentacles throughout the global economic system. Prices could suddenly climb, and basic commodities could disappear from store shelves and never return. We aren't quite to a panic situation yet, but
the time has come to carefully analyze your personal financial situation and prayerfully decide how to use your resources in the next few weeks.
Hot on the heels of the Deutsche Bank debacle comes the next nail in Germany's economic coffin.
Germany's second largest bank, Commerzbank is planning to cut almost 10,000 jobs over and will stop paying dividends to shareholders.
These actions will take place over the next 4 years.When the news broke about Deutsche Bank collapsing, the German government said it will not assist the ailing bank – however, some have reported that the situation appears so dire that they may have softened.According to Die Zeit, the German financial sector is in talks with the government to have a rescue plan in place to head off a total collapse of the bank. However, Deutsche Bank and the German Finance Ministry have denied that the government would be prepared to hold a 25% stake in the bank to prop it up."This report is false. The federal government is preparing no rescue plans. There is no reason for such speculation. The bank has said that clearly." A member of the Finance Ministry said yesterday.Concerns are rising due to the size of the fine imposed by the U.S. Treasury.


Deutsche Bank is Germany's biggest lender and is facing a $14 billion bill for improper selling of mortgage-backed bonds before the financial crisis of 2008
. Many experts don't feel that they would have to pay the whole fine but say that it is within the rights of the Treasury to insist the fine is paid. If this happens, there is little doubt that would lead to the total collapse of the bank in its current form.
Germany is in turmoil.
A few short weeks ago, the German government recommended that its citizens prepare for a national emergency by stockpiling food, water, and cash. Was an impending economic collapse the reason why?This is a nation that isn't used to having to deal with such things and their hard-line stance during the Greek financial crisis has put them in a position whereby they will look hypocritical if they step in to help a German financial institution when they basically turned their back on Greece. A "bank holiday" left the Greeks with no access to money, and their financial collapse resulted in tens of thousands of Greeks being unable to feed their kids and a skyrocketing suicide rate.
Merkel's' open door policy for migrants has also caused some deep divisions with massive gains amongst the far-right who have pledged to cut migration.
The country has been besieged by sexual assaults and a rise in violence over the last few months and one has to ask how long the 'strongman' of Europe can keep travelling on its present course.Of course, astute observers knew something was amiss when Germany announced it was looking at the possibility of re-introducing the draft and had advised German citizens to stock up on food, water, and cash in case the country faced a national emergency.Europe is teetering on the brink, and although we are thousands of miles away, we must take note of what happens there. Trade and economy are inextricably linked in this age of global connectedness and the ripples are felt around the world when a major economy hits its crisis point.

Source Article http://www.thesleuthjournal.com/anot...lders-profits/
---------------------------------------------------------------------------------------------------
RED ALERT — Get Ready for a 'Severe Fall' in the Stock Market, HSBC Says
Throw out all of the dreams and visions of an economic collapse to coincide with the presidential election—the proof is right before our eyes. Key financial experts are clearly worried about the stock market's movements the past few weeks, and a "red alert" has been issued by an analysis team. This article by Bob Bryan of BusinessInsider.com explains how the Dow Jones Industrial Average and the S&P 500 both appear to have topped out, with a steep drop likely to occur.
My personal belief is that "the powers that be" who have artificially propped up the market for the past two years are getting ready to pull the rug out from under the economy.
We are within weeks of possible civil unrest related to the outcome of the election, and a financial collapse would certainly stoke the fire under those living in poverty or who feel oppressed. I'm not a betting man, but I would put my money on a lot of investors losing their shirts before the end of the year.
HSBC's technical-analysis team has thrown up the ultimate warning signal. In a note to clients released Wednesday, Murray Gunn, the head of technical analysis for HSBC, said he had become on "RED ALERT" for an imminent sell-off in stocks given the price action over the past few weeks. Gunn uses a type of technical analysis called the
Elliott Wave Principle
, which tracks alternating patterns in the stock market to discern investors' behavior and possible next moves. In late September, Gunn said the stock market's moves looked eerily similar to those just before the 1987 stock market crash. Citi's Tom Fitzpatrick also highlighted
the market's similarities to the 1987 crash
just a few days ago. On September 30, Gunn said stocks were under an "orange alert," as they looked to him as if they had topped out.
And now, given the
200-point decline for the Dow
on Tuesday, Gunn thinks the drop is here.
"With the US stock market selling off aggressively on 11 October, we now issue a RED ALERT," Gunn said in the note. "The fall was broad-based and the Traders Index (TRIN) showed intense selling pressure as the market moved to the lows of the day. The VIX index, a barometer of nervousness, has been making a series of higher lows since August." Gunn said the selling would truly set in if the Dow Jones Industrial Average were to fall below 17,992 or if the S&P 500 were to dip under 2,116. The Dow closed at 18,128 on Tuesday, while the S&P settled at 2,136.
"As long as those levels remain intact, the bulls still have a slight hope," Gunn said.
"But should those levels break and the markets close below (which now seems more likely), it would be a clear sign that the bears have taken over and are starting to feast. The possibility of a severe fall in the stock market is now very high." Watch out.

SOURCE ARTICLES
http://www.businessinsider.com/hsbc-...market-2016-10
http://www.bloomberg.com/news/articl...-in-u-s-stocks
https://www.rt.com/business/362618-s...t-severe-fall/

-----------------------------------------------------------------------------------------------------------
Hurricane Matthew Brings Record River Flooding to North Carolina
A week ago the nation was carefully watching Hurricane Matthew churn toward Florida, and more than two million people were evacuated along the East Coast. As often happens with such storms, the end result wasn't what the forecasters had predicted. Hurricane Matthew stayed far enough away from the coast to spare most of Florida and Georgia from catastrophic damage. But as the storm slowed down and pummeled the Carolinas. This article by Angela Fritz in the Washington Post shows how devastating Hurricane Matthew was, particularly in North Carolina. As we watch these storms develop, we often overlook the potential for flooding, both due to a storm surge and from heavy rainfall. The flooding has been horrendous, and it is expected to get worse before it gets better. The effects of flooding can linger for months and often years, decimating an area economically and changing the lives of citizens forever. In some ways it feels like this article should be in the "Preparing for the Callout" section, but it is a current event that is affecting our fellow citizens. It is just another lesson that we need to be prepared for any type of disaster. That way we will not only be able to save ourselves, but we'll be ready to help others in need.
As North Carolina struggles with the deadly aftermath of Hurricane Matthew, forecasters Wednesday warned that rain-fed waters were still on the rise in some areas — with at least one river expected to crest this weekend at nearly double the flood stage.

The swollen Neuse River — cutting through coastal flatlands south of Greenville — underscores the flood threats facing parts of the state for the coming days even as rescue teams try to move people out of danger and utility crews work to restore power to nearly 200,000 customers.

North Carolina Gov. Pat McCrory (R) said storm-related deaths now stand at 19 (as of Wednesday) across the state, and urged again for full-scale evacuation from threatened areas. Among them: the valley below Wood Lake Dam, about 20 miles northwest of Fayetteville, which has been reinforced but remains in danger of failing.

"We've had too many deaths," said McCrory. "Get out. Once the water flows, it's too late."The National Weather Service predicted that the Neuse was moving toward "dangerous flooding levels" of near 27.5 feet by early Saturday near the town of Kinston before starting to fall. The rise — already above the 14-foot flood stage in the area — is forecast to top the spillover from destructive Hurricane Floyd 17 years ago.

"Numerous evacuations will be needed" in the area around Kinston, about 30 miles southwest of Greenville, the Weather Service bulletin said. Other sections of the Neuse River near Goldsboro were expected to crest Wednesday, as well as the Tar River at Tarboro to the north.

McCrory said the river swell near Goldsboro was expected to reach "record levels" as four more counties were added to the list of places available for federal emergency relief funds. He said relief teams have arrived in the state from as far away as Arkansas and Mississippi."Let's try to save some lives," he said.


Nearly 25 deaths in the United States have been blamed on Matthew as it churned up the East Coast after killing hundreds in Haiti and battering Cuba and the Bahamas.
The flooding has dealt a direct blow to the poorest section of North Carolina, a tract of farmland and towns struggling after losing manufacturing jobs. More than 4,000 people have been forced from their homes into shelters at high schools and recreation centers, many lacking flood insurance, health insurance or stable employment. McCrory said the challenges ahead include finding temporary housing for those displaced by the floods.

In some hard-hit communities, like Lumberton, the flooding also cut along socioeconomic lines: A white area of town was preserved, while a lower-lying African American section now stands in several feet of water. But in other parts of the state, emergency officials say, a diverse group of people have been pushed from their homes.

"When a flood like this hits, the pain of it is exacerbated by the poverty," said the Rev. William Barber, president of the North Carolina NAACP. "What we're talking about, particularly in eastern Carolina, are some of the poorest communities in the country — black and white, who already had economic challenges before something like this."

At shelters Tuesday, people said they were uncertain how long they would be sleeping in bleachers and on gym floors.

"It's a low feeling," said Mae Campbell, 65, of Lumberton. "Embarrassing. Degrading."States of emergency remained in effect in nearly half of the state's 100 counties, and 52 shelters housed more than 4,300 people, officials said. Another hazard on the horizon: chemicals and dead animals that could contaminate some water supplies.

In Robeson County, where Lumberton is the county seat, rescue workers were scrambling to reach more than 1,000 people, many of them in a neighborhood of small apartment complexes and public housing.

Source Article
https://www.washingtonpost.com/news/...d-waters-rise/
----------------------------------------------------------------------------------------------------------